Hersh Sood, Canadian P. E.
Principal Projects and Facilities Engineer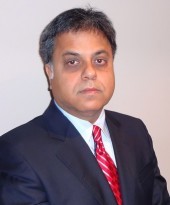 Hersh Sood was raised in Calgary, Alberta, Canada. His formal education was acquired from the Schulich School of Engineering at the University of Calgary which is reputed for the establishment of core technologies (eg. Hyprotech Hysis) applied to the Oil and Gas industry in Canada and internationally. Hersh graduated in 1986 with a B.Sc. in Mechanical Engineering where he also completed an internship with the National Research Council of Canada at the Petroleum and Water Laboratories designing water treatment plants for conventional oil recovery and Tar Sands at Alberta development sites. His specialization was in finite element analysis and turbomachinery rotor dynamics. Hersh is a member of the Association of Professional Engineers and Geologists of Alberta.
Hersh has traveled extensively where his work and interests have taken him to all corners of the globe. His exposure has been primarily in arctic regions bringing winterization designs and construction methodology to onshore and offshore locations in Canada, Russia and Kazakhstan.
In the 1990's, Hersh worked in Sales, Marketing and Project Management for facilities development projects in Alberta and the remote oil fields of Southern Saskatchewan. He was engaged in detailed engineering design to executing fast track pipeline tie-ins and process facility upgrades for an aggressive onshore horizontal drilling program. He also became involved in interim offshore EPIC works for Saudi Aramco on their Gas Oil Separation Platforms damaged by the 1991 Persion Gulf War. Following completion of his Canadian assignments, Hersh became a key engineer with the Multi-Projects Group of Fluor Houston where he undertook assignments in various phases of mid size capital projects, from refinery expansions in Lithuania to LPG terminals in the PR of China and process platforms offshore Nigeria.
Hersh's E&P career grew after joining a small team at Marathon Oil Company to lead the FEED phase of a remote multi-billion dollar facilities development and pioneering the first post Soviet era, integrated oil and gas processing / drilling offshore platform installed and operated in Russian territorial waters. Following systems completion, Hersh carried over into an Operations and Maintenance function for Sakhalin Energy where he initiated a unique Healthcare program with key OEM's for offshore turbines maintenance. This program resulted in improved reliability of critical production heavy equipment from a low of 25% to 95% specification with provision for coverage over minor to catastrophic failures.
After a successful year of proving the production at Sakhalin Energy, Hersh took on the role of Facilities Engineering Manager at ENI in Italy where he joined a shareholder team from Houston to lead the design and construction of an Aframax FPSO and subsea distribution system for the Oyo field offshore Nigeria. The design and construction were completed within record time. In Kazakhstan, Hersh further completed multiple brownfield projects for OMV in a very harsh climate covering extreme temperature ranges and employing local capability.
Today, Hersh's expertise in facilities engineering has taken him on several consulting assignments from ExxonMobil in Houston / Korea, where he undertook the project / mechanical function for the Chayvo OPF Expansion Project (which won the President's best project safety award) to his latest assignments as a facilities engineer for Chevron offshore in Angola and currently as an FPSO Upgrade Manager with Schlumberger Production Management in Nigeria. He is known by his colleagues as "an ideas man" always ready to deliver success and accomplishment to his customers.
Back to our Team »