Fredrik S. Michelet
Senior Project Manager, Scandinavia and Northern Europe Region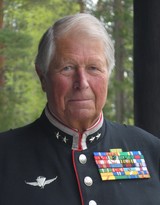 We are proud of presenting our Project Director Fredrik S. Michelet, a senior in the oil business, originating from shipping as Performance Controller for a huge, VLCC tanker fleet. Economist as background with keen interest in technology. Founded own company 1974 with shipping companies, building-yards and oil companies as customers in Cathodic Protection, Surface Treatment, Heat Recovery systems, providing engineers and consultants. Walked the long road with assignments on EKOFISK Field, the first oil field in Norway, FRIGG Gas Field, STATFJORD A & B, 4 years as Senior Contract Advisor in STATOIL Research Dept., with commercializing of research results as specialty.
Lieutenant Colonel Norwegian Army; Security Advisor to the Government/the Prime Minister's Office, Military Advisor in Ministry of Defence at Presidential level in the Baltic States for six years; richly awarded with State military decorations.
Served with Steven Hill as Procurement Manager since 2008 in FPSO Projects.
Back to our Team »